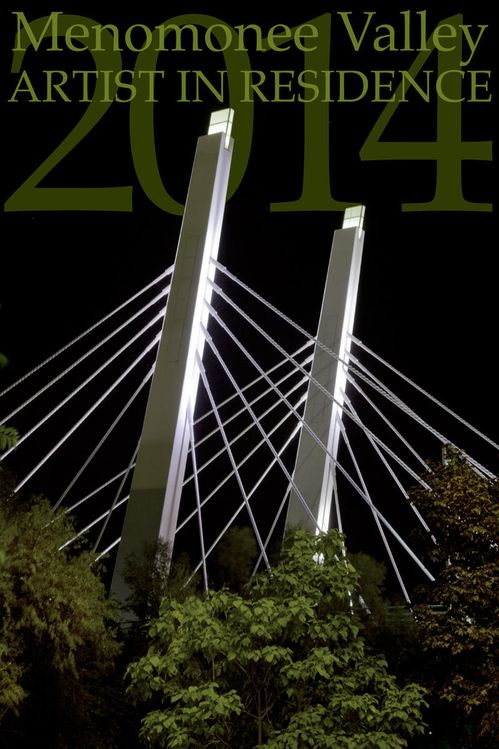 For the best overview of this project go to the website dedicated to the Menomonee Valley Artist Residency.
This page provides a brief description of the project and a thorough index of links to image galleries, blog posts, press, and other related sites.
DESCRIPTION
Menomonee Valley Partners, in association with Zimmerman Architectural Studios, established a pilot Artist in Residency program for the calendar year 2014. It was my honor to have been selected as the inaugural resident.
The purpose of the pilot program was to use art to activate the potential of the Menomonee Valley as a symbol of urban revitalization; to foster relationships and create cultural connections; and to stimulate an exchange of ideas about the Menomonee Valley, its history, its future, and its place as a dynamic and vital part of the fabric of Milwaukee, a place where economic and community development is integrated with parks and natural areas.
During the year I photographed widely throughout the valley. The work falls into two broad categories: The environment and the people. Along with the photographs I wrote a series of stories, essays and profiles of people who work in the Valley. These have been posted on my two blogs: Urban Wilderness and Arts Without Borders. Links to all of them are below.
IMAGES:
A sample of images: Menomonee Valley gallery.
A more extensive selection of images on flickr.
Portfolio of images from Palimpsest: The Transformation of the Menomonee Valley.
Portfolio of earlier Menomonee Valley images on flickr.
Portraits from the opening of 3 Bridges Park on MVP page.
Bike to Work Week portraits on flickr.
Images of 5 Menomonee Valley 2.0 Master Plan sites on Flickr: St. Paul Avenue, I-94 & Clybourn, Pierce & Bruce Streets, The East End, and Basel Ryan.
PRESS AND ANNOUNCEMENTS:
Gallery night open house, July 25: read invitation. Introductory announcement
Interview on WUWM: click here.
OnMilwaukee.com announcement: click here.
Clean Rivers, Clean Lakes Conference Featured Artist announcement
Article in WauwatosaNOW
In Gratitude: A seasonal message, Dec. 16.
Review in Art City of exhibit at Walker's Point Center for the Arts, July 2015.
ESSAYS:
Why have an Artist in Residence in the Valley?
At midwinter: The rebirth of the Menomonee Valley
Construction Season: Reframing the Menomonee Valley
Nature and Community: Reviving the spirit
You can help plan the future of the Memonee Valley
Canal Street and placemaking in the Menomonee Valley
Why I am here: On beauty in the Menomonee Valley
PROFILES:
Down by the Riverside: Art and Activism in Milwaukee
Meter Hero wants to help you conserve water & energy
Brass Light Gallery: A beacon in the Menomonee Valley
Growing with the Menomonee Valley
The Fund for Lake Michigan: supporting restoration and innovation
Hanging Gardens: green roofs, stormwater management and bioremediation
Ruby and the Tree: Growing with 3 Bridges Park
STORIES AND ACTIVITIES:
Cross-country in the heart of the city
Denis Sullivan leaves winter harbor
The Menomonee River gets its annual makeover
Taking a Chance on 3 Bridges Park
Biking to work in the Menomonee Valley
Herons roost in the Menomonee Valley
Planting day at 3 Bridges Park: A photo essay
Celebrating a sunless solstice morning
Photo phenology revisited: 3 Bridges Park
Mayor Barrett takes a walk in 3 Bridges Park
Kayaking the Menomonee with Mke Riverkeeper