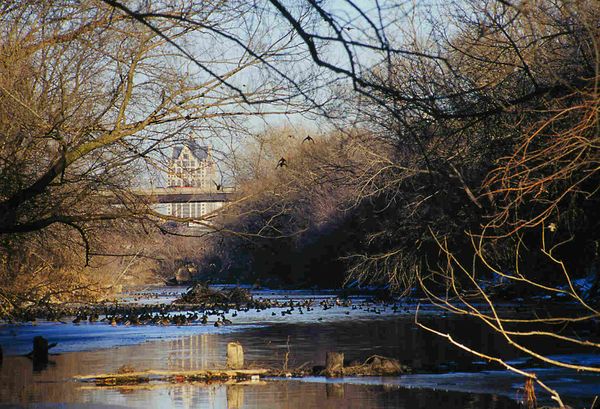 The Urban Wilderness Project / A Wealth of Nature
Imagine an urban wilderness. Imagine that there can be places in and near a city where people can go to experience the natural environment—rivers, woodlands, marshes, wildlife, even solitude. The goal of the Urban Wilderness Project is not only to imagine the paradox but to envision and promote it through photography and writing.
Urban Wilderness is the paradoxical concept that informs my worldview and inspires much of my practice.
Urban Wilderness also is a conceptual context for a series of photographic projects that began in 1997 and are on-going. Some of these projects are intended to bridge art and activism. The various projects are unified by the thematic vision of an environment that integrates what is urban with what is wild. I live in a city, I live with nature and I live within a paradox that I perceive as urban wilderness.
Several of the galleries on this website derive from this concept.
Many of the albums on my Flickr site relate to this concept.
The blog that I curate for Preserve Our Parks, called The Natural Realm, is devoted to this concept. In addition to acting as curator, I write and contribute photography to the blog.
The Natural Realm is a component of a project called A Wealth of Nature: Parks and natural areas in Southeastern Wisconsin. This is a project I curate under the auspices of Preserve Our Parks, a non-profit advocacy organization. It is an extension of the Urban Wilderness Project with its own website: awealthofnature.org.
Public Speaking
I have extensive experience in public speaking on this topic, especially as it relates to Milwaukee and vicinity. Contact me to learn more about public speaking options or to schedule a talk. For more about public speaking go to A Wealth of Nature.
The concept of Urban Wilderness began as a book: Urban Wilderness: Exploring a Metropolitan Watershed was published in 2008 by the Center for American Places at Columbia College Chicago. The book is out of print but may be purchased new from me or used at Amazon.com. To read excerpts click here.
414.771.8857 // eddee@eddeedaniel.com